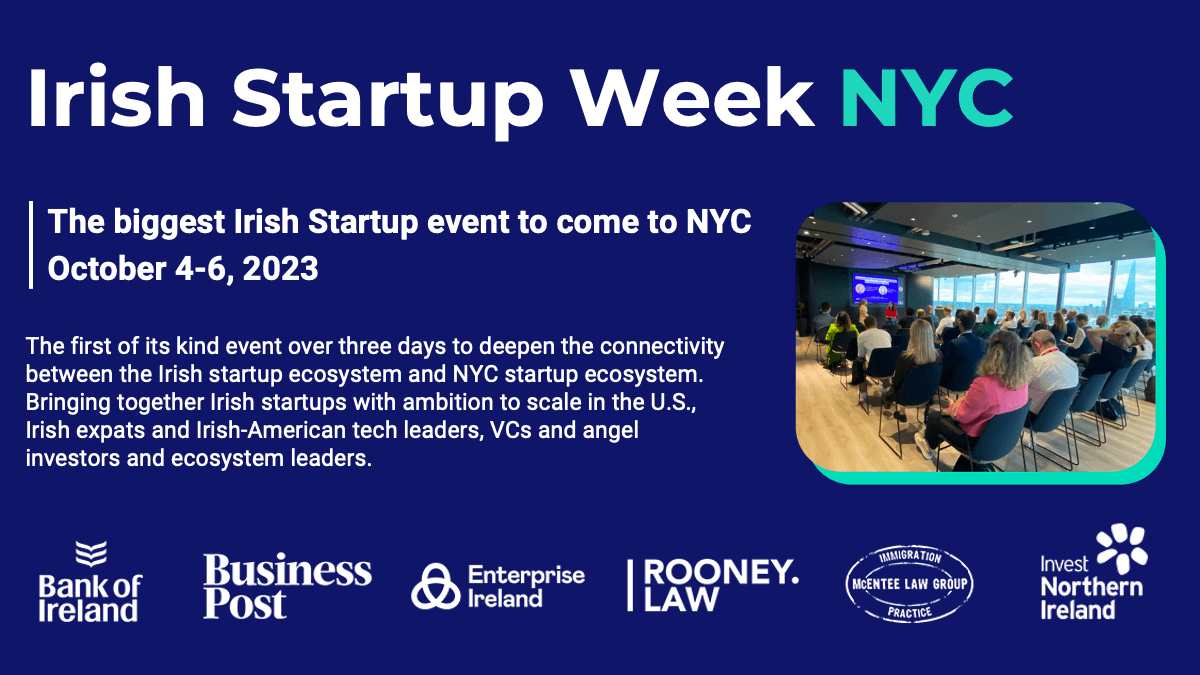 Introducing "Irish Startup Week NYC" – A Premier 3-Day Event Supporting Irish Startups' US Expansion
New York City, NY – Sept 11, 2023 – Digital Irish are pleased to announce the launch of "Irish Startup Week NYC," a first-of-its-kind 3-day event set to take place in the heart of New York City this October. The event aims to provide a strategic platform for Irish startups to foster growth, connect with US investors, and pave their way towards a successful transatlantic journey.
What is "Irish Startup Week NYC"? "Irish Startup Week NYC" is an opportunity for Irish startups to springboard their businesses onto the global stage. From October 4th to 6th, Irish entrepreneurs will be welcomed to the NYC startup ecosystem, connecting to key players that can support their journey, introductions to potential funders, and gain critical insights into the next step of their scaling journey.
Key Highlights:
Pitching Sessions: Startups will present their visionary ideas to a panel of esteemed investors, igniting possibilities for invaluable partnerships and investments.
Meet Potential Customers: Attendees will engage directly with potential US customers, fostering relationships that could translate into loyal client bases.
Networking with Irish Business Leaders: Irish business leaders who have successfully established their footprint in the US will share their insights, strategies, and lessons learned during engaging networking sessions.
Pitch to Digital Irish Angels, an Angel Investment Syndicate: An opportunity to pitch to a syndicate of seasoned Irish and Irish-American angel investors, paving the way for accelerated growth.
Crash Course on US Market Entry: A comprehensive crash course led by industry experts, offering invaluable insights into the nuances of entering the US market successfully.
Why "Irish Startup Week NYC"? As Ireland's innovation ecosystem continues to flourish, this is an opportune time for startups to venture into the vast potential of the United States. "Irish Startup Week NYC" acts as a conduit, bridging the the transatlantic entrepreneurial spirits. By fostering collaboration, innovation, and knowledge exchange, we believe "Irish Startup Week NYC" will facilitate the growth of Irish startups on an international scale.
Key Supporters:
Event Details:
Date: October 04-06, 2023
Location: New York City, NY
Registration: Available here
"Irish Startup Week NYC" embodies the spirit of camaraderie, ambition, and growth, as Irish startups prepare to embark on a transformative journey that holds boundless potential. Join us in October as we lay the foundation for a new chapter in transatlantic innovation and celebrate the indomitable spirit of entrepreneurship.
About "Irish Startup Week NYC": "Irish Startup Week NYC" is a pioneering 3-day event dedicated to supporting Irish startups in their expansion efforts into the US market. Through a series of immersive sessions, networking opportunities, and engagement with US investors and industry leaders, "Irish Startup Week NYC" aims to empower Irish entrepreneurs to thrive on a global stage. The event is set to take place in New York City, showcasing the power of transatlantic collaboration and innovation.