Get comfortable, this is going to be a long one.
Since 2015, I've been helping Irish and US graduates prepare and apply for jobs in NYC. And, in that time, you begin to notice some common patterns and pitfalls in the application process.
If you are wondering how to write a resume (particularly a J1 Graduate resume), here are some pointers that have gotten hundreds of graduates employed since 2015.
CV vs Resume
Let's get the terminology and structure correct. A Curriculum Vitae (CV) is a long-form document where you record your achievements, chronologically, with a high level of detail. I don't get so hung up on the length and layout of this document as I've never submitted one when applying for a job. I do encourage you to maintain one, however, so that you have a record of all past career achievements. Some people opt to use their LinkedIn profiles as a CV-repository of sorts.
By contrast, a resume is a tailored, short-form document (typically one page) that you will actually end up submitting in your job application. It gives an overview of your most appropriate career highlights that are most applicable to the job you wish to apply. So don't give your life story.
The idea behind maintaining the two documents is so that you have a record of all your career specifics when you want to pick and choose what to include in your resume, to tell the appropriate story. It is not one-size-fits-all, it needs to be tailored for each application, using the language of the job description.
Getting Started
First, ensure the position you are applying to is appropriate for someone at your level.
Next. One page. Got that? One. C-Suite level? Maybe two. Definitely not nine. (I got to page four on that one before I gave up and asked them to re-submit a shorter version). The first purpose of your resume is to catch the attention of the recruiter, to convince them to interview you. People are busy and your resume will be read quickly, so make things simple and concise.
Be aware of the size of your document. American Letter size is wider and shorter at 8.5in x 11in compared to international A4 paper size which is thinner and longer at 210mm x 297mm – you will need to convert your resume to US paper size (the one on the left, below).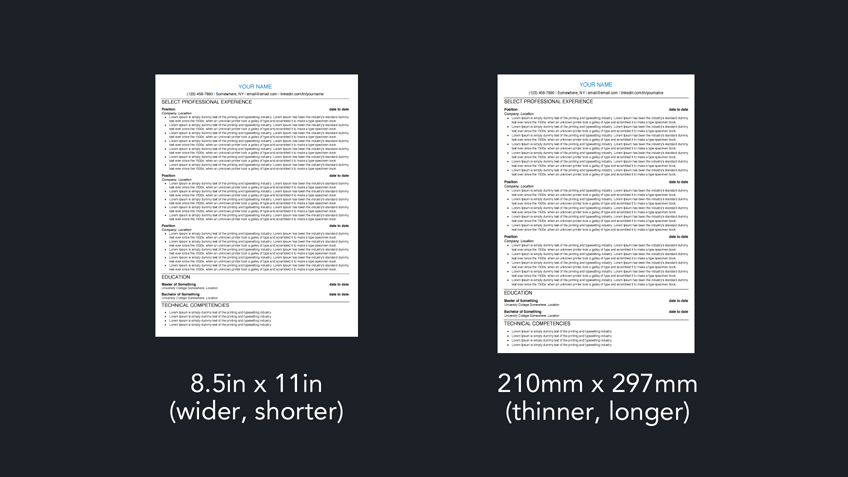 The structure of your resume should flow from top to bottom as follows:
Name & Contact Details
Experience
Education
Technical Competencies
(Note 2. and 3. are somewhat interchangeable in order, depending on where you are in your career). Do not title the document Resume at the top – another waste of space.
At this point, you should have the correct size, blank document in front of you. Save it with an appropriate file name like Gavin-McMahon-Sales-Intern.docx – don't name it resume.docx or the recruiter is going to end up with a folder of applicants with resume file names like this:
Summary
Summaries are a great way of using up valuable space unnecessarily. Any information you put in here you will likely have already been included in your cover letter or as answers to questions asked elsewhere in the application process. So don't use up this space telling me you're a highly motivated and charismatic finance / marketing / sales professional seeking job opportunities in NYC – that much is obvious. Keep it conscious and emphasize why you would be a great candidate for the job you are applying to.
Name & Contact Details
This shouldn't take up any more than two lines at the very top of the page and should consist of your phone number, location, email address and LinkedIn profile.
Phone Number: If you are applying for a job in NYC, please don't put down your Irish / International phone number. Get a free Google Voice US number at a minimum.
Location: The recruiter won't be coming over to your house for coffee any time soon so you don't need to give your exact address. They're looking for an indication that you are in the area so list where you will be living / your general location e.g. Brooklyn, NY
Email: This is pretty simple. Use a Gmail address or another equally reputable service and ensure the naming convention is appropriate like [email protected] – don't use your overseas college email address. A bonus point if you have a personal domain email address.
LinkedIn: This is becoming more important as it publicly validates your profile to the recruiter. Ensure you hyperlink your profile so the recruiter can navigate to your profile in one click.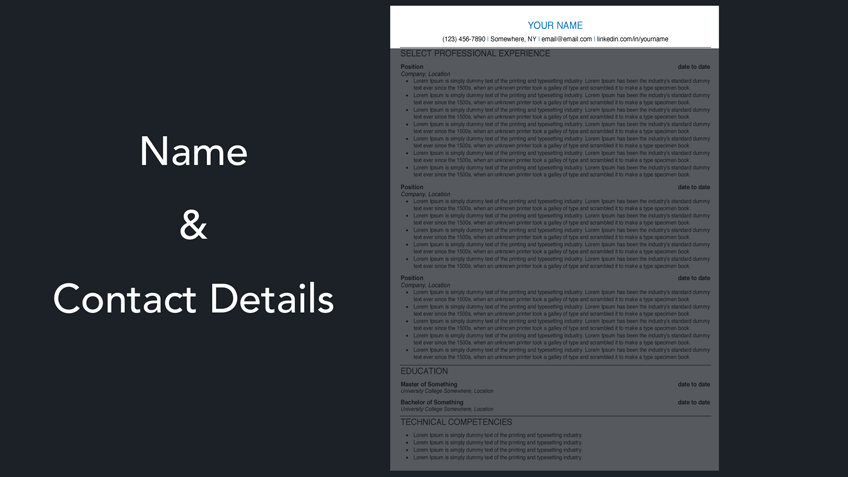 No, you do not need to include your date of birth, your headshot, your nationality or your mother's maiden name.
Experience
Consider who you are writing this resume for and the verbiage in the job description. Not only do you want to educate the recruiter about your skills and experience to date, the purpose is to highlight how you apply those skills and experience, to offer incremental value to the organization. What would make you a better prospective employee than any other applicant?
Title the section "Select Professional Experience" and list only your recent positions that are most relevant to the job opening. I like to list the position first, then the company, as it highlights the level of responsibilities you have previously held.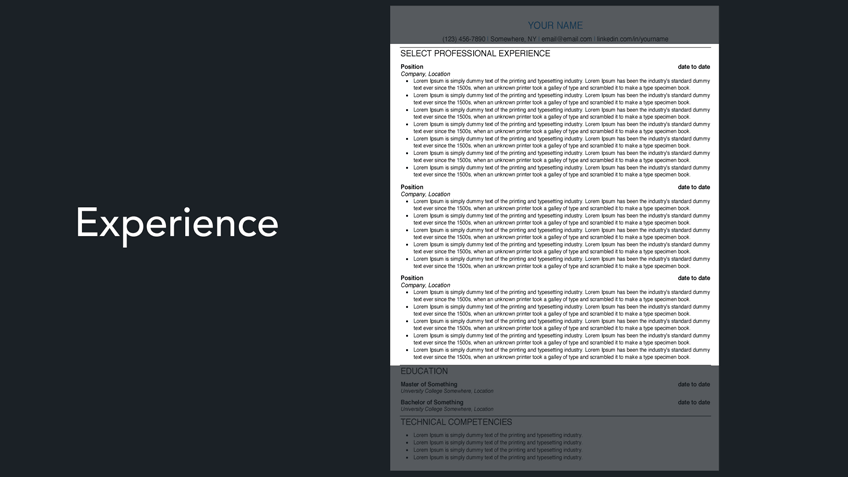 For the details underneath each position, you want to highlight your achievements and your skills – particularly those that set you apart from your competition. DO NOT JUST DESCRIBE THE JOB. This is both lazy and boring. Consider the following:
"I managed social media for this company"
So far you have given the recruiter zero meaningful insight (apart from suggesting you probably have Tiktok and Instagram accounts). List, in 3 to 5 bullet points, quantifiable data of what you did – use statistics. What did social media management look like before you started the role and what does it look like now? How did you increase audience traffic by x%? How did you improve conversion rates to increase sales? What proprietary systems did you use? Did you have a team? How many people were on the team and how did it grow under your supervision?
Here are some other tips:
Structure each sentence considering WHAT-WHY-HOW. What was the thing you did? Why did you do it? How did you do it?
Consider the language of the job description – if they say "we are looking for someone who can do abc", include that, not only did you do abc for your previous employer, but here is the measurable outcome by which you improved abc. Use keywords.
Do not lie or exaggerate – this should be obvious. Don't describe yourself as 'Assistant Regional Manager' when you were really just 'Assistant To The Regional Manager'
Do not list outdated positions – your previous position working in a restaurant has little applicability to the digital marketing job you are now applying to.
Education
This section may include more or less information than the below pictured example, depending on your previous job positions and how applicable they are.
Only include education details since college – American employers generally do not know what a 'Leaving Cert' is. Include the college name and year of study. If you have space, you can also include some core subjects / modules that are relevant to the job opening. Do not include "Second Glass Honors," nor the GPA conversion – it is not necessary.
If you find that your experience section is lacking, you can include relevant college projects / side projects / coursework / volunteering in this section also.
Technical Skills / Competencies
In this final section of your resume, you can list items that you really haven't had the opportunity to mention elsewhere in your resume. These should be hard skills that have been learned and can be validated. Such examples might include software like Excel / PowerPoint etc. or any other proprietary systems that could be used in your next role. (Think sales tools like Salesforce or finance tools like Bloomberg terminal or marketing tools like HootSuite / Google Analytics etc. – whatever is relevant to you). Perhaps you know some basic programming skills.
Do not exaggerate these skills either. 'Advanced Excel capabilities' is a common characteristic, until you flip the laptop around and ask the candidate to run a pivot table on a set of data.
Do not use this section to describe how you are 'detail-oriented' or 'intellectually curious' or a 'hard-worker' – these are soft skills that really have no meaning.
Other Thoughts
Here are some final items to be consider when writing your resume:
Save your resume as a PDF. This will ensure consistency in formatting and make it difficult for a third party to alter.
Use a clear font – I like Helvetica.
Spelling mistakes are unforgiveable (particularly when you've just described yourself as detail-oriented). Have a friend or family member give the final document a proof-read for you.
Provide what was requested, in the language of the job description.
Do not say "References Available Upon Request" – if the recruiter wants references, they will ask for them.
Do not include an 'Interests' section. Your resume is not the place to include your abilities on the tin-whistle or how much you love hurling.
Do not include a line to thank the recruiter for reading your resume.
Bottom Line
Applying for a job is tough, especially in New York City where competition is fierce. Spend time working on your resume and, if you do need some help, reach out to me with a clear request of what help you are specifically looking for.
**Bonus**